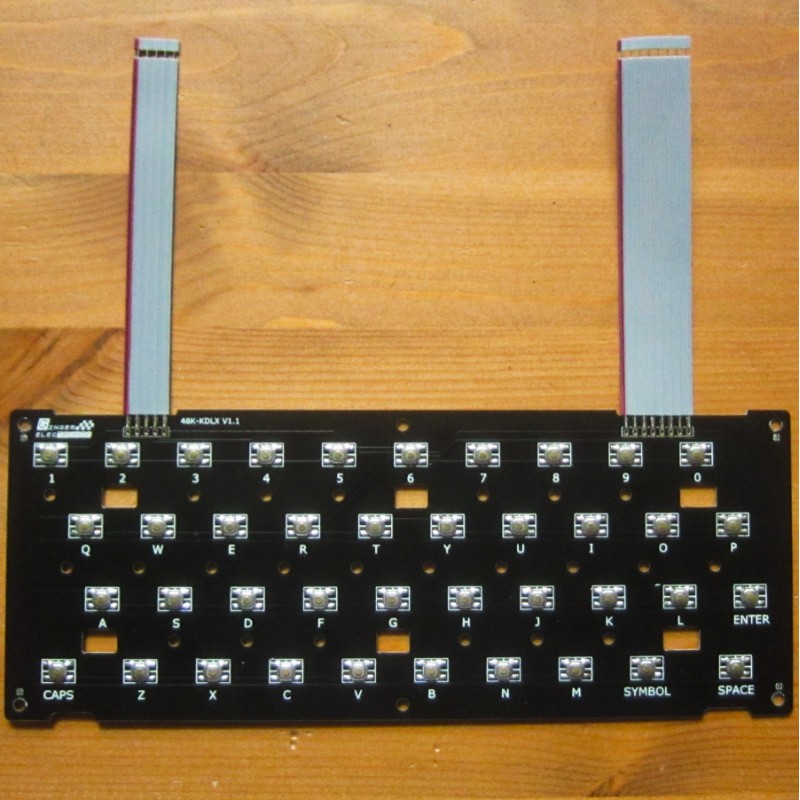  
48K-KDLX keyboard for Sinclair ZX Spectrum 16k/48k
This keyboard is a direct replacement for the keyboard membranes of Sinclair models ZX Spectrum 16k and 48k with "rubber keys". It was sold with more than 200 pieces and inspires the ZX Spectrum communiity. Please read the description for the variants. The pcb colour is now white. 
Feedback on 48K-KDLX at sellmyretro
This keyboard was build with long life SMD tactile switches for a safe and comfortable type feeling in comparison to standard membranes. Programs can be written much faster and the keys have an audible and perceptable click. The installation is very easy and does not require soldering skills, just a screwdriver for opening the case. The keyboard is very flat and not remarkable thicker than a usual keyboard membrane and fits perfectly under the rubber mate (model 48K-KDLXR).
This model is also available in variant 48K-KDLXS with a printed top membrane as complete replacement of the whole rubber mate including the faceplate in cases where the print of the faceplate is no more good readable. Or it may be used with replica versions of the ZX Spectrum like the Harlequin or the Spectrum NEXT or for own projects.
Dimensions 220 x 86 x 2.0 mm (L x B x H).
Data sheet
Age recommendation

from 12 years

Electronics skills

No need

Programming skills

No need
No customer reviews for the moment.