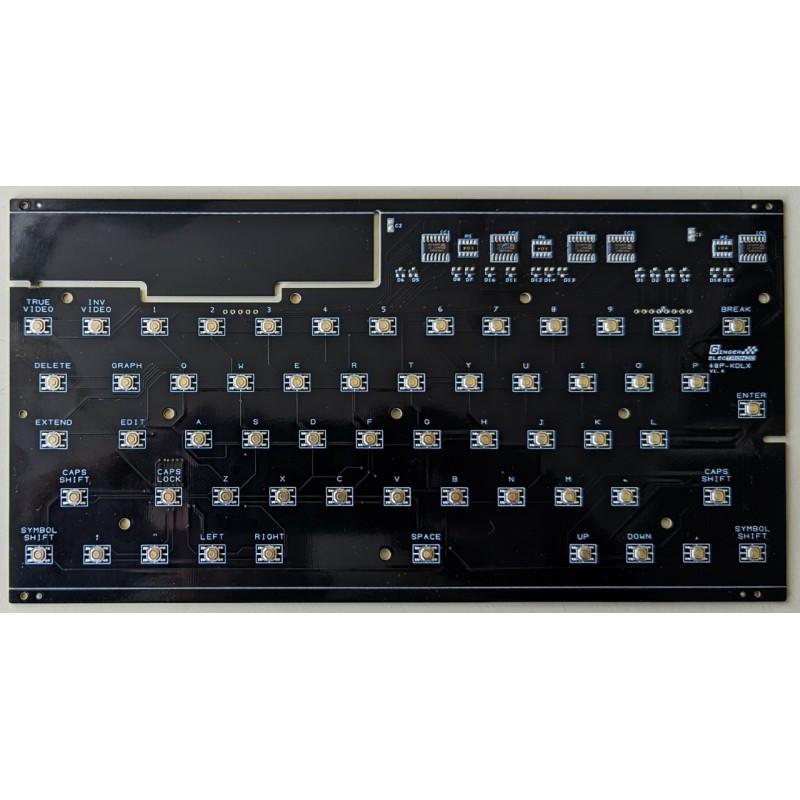  
48P-KDLX Keyboard for Sinclair ZX Spectrum Plus (+) / 128k
This pcb keyboard with 58 tactile switches replaces the membrane in the Sinclair Models ZX Spectrum Plus (+) and ZX Spectrum 128k ("toastrack") and gives a comfortable type feeling with perceptible and audible click. Please take note, this keyboard was completely revised with a new form factor and all keys are placed now very properly, which makes it much easier to install this keyboard in your spectrum.
The rails from production must be broken with small tongs and the cables need to be soldered to the pcb and the small keyboard adapters, which will fit perfectly in the membrane connectors. This keyboard can be ordered also mounted ready for install with a little extra fee. Assembly kit refers to soldering the cables only and remove the rails.

Feedback to 48P-KDLX on sellmyretro
This pcb keyboard contains 58 long life smd tactile switches for an easy, comfortable and safe type feeling in comparison to the harder to use membranes in the Sinclair models. Programs can be written much faster and the tactile switches create a perceptible and audible click. Installation is easy and does not require special skills for electronics or soldering - only a screwdriver is needed to open the case and remove the old membrane. This pcb keyboard fits perfect to the models ZX Spectrum plus (+) and ZX Spectrum 128k (toastrack) and replaces both the membrane and the back plate.
Dimensions 256 x 99 x 3.1 mm (length/width/height) while pcb height is only 1.6mm and switches height of 1.5mm will disappear in the rubber mate with the nops in the middle.
Data sheet
Age recommendation

from 12 years

Electronics skills

Soldering skills

Programming skills

No need
No customer reviews for the moment.